This is a Sponsored post written by me on behalf of The Clorox Company for SocialSpark. All opinions are 100% mine.
I'm pretty sure that by now we've all heard the term "Staycation" by now. Since not everyone can afford to go out of town during their time off, a lot of people just take time off and relax at home with their families- bam- staycation. It's becoming more and more popular as the prices of gas rise.
I know that staying at home instead of going to some remote destination seems boring- so i'm going to tell you about a giveaway that might be able to make your couch surfing vacay a little more enjoyable.
From May 20- June 24th 2012, you can enter into the It Pays to Vacation at Home sweepstakes, sponsored by Clorox®, on dollargeneral.com for a chance to win one of 20 Grand Prizes, 100 first prizes, or 100 instant win prizes.
The Grand Prize is a $500 check to vacation at home
First prize is a $25 gift card to Dollar General®
Instant win prize is a $10 Dollar General® gift card
To enter, you just pop on over to dollargeneral.com, punch in your info- and play the WIpe to Win instant win game for a $10 Dollar General® gift card. All you do is grab a Clorox® wipe, and clean the appliance and you'll find out if you won the $10 gift card
Now, unfortunately I didn't win today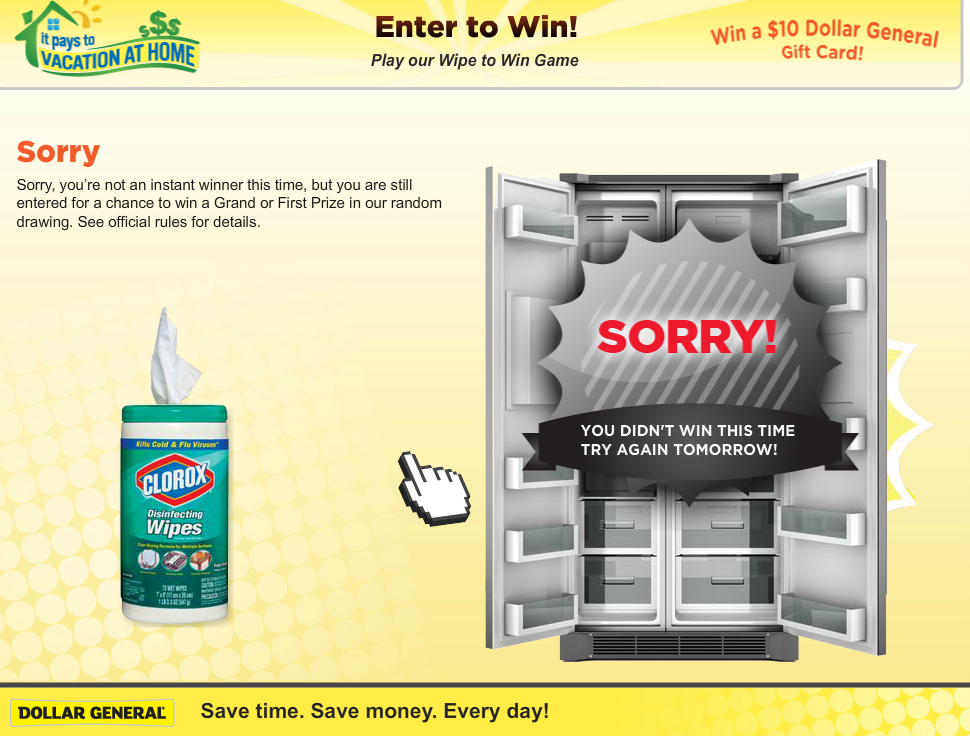 But just by playing i'm entered to winthe Grand Prize and the First place prize!
If I win, i'm going to use the gift cards to stock up on some of my favorite cleaning products from Dollar General® like
Some much needed laundry detergent, Clorox® wipes, and Pinesol® surface cleaner. Fingers crossed!
Go and enter the It Pays to Vacation at Home sweepstakes and see if you're an instant winner! SO easy to enter- maybe you'll win!