Since my Dad is insisting that Thomas and I bring our own food, AND a side to share for Easter.. I have decided to go with my 'famous' Peanut Butter Easter Eggs.
You know.. the huge ones.. with the delicious peanut butter concoction on the inside that you can ONLY find around Easter, only I haven't been able to find them for years? Those.
They are fantastic if you're wondering.
And lucky me, no baking involved! Just a lot of hand work.
Unfortunately, the HUGE jar of peanut butter we bought at the store earlier isn't enough.. so Thomas is currently at the store purchasing more. This is going to be ridiculous.. and messy- but will be oh so worth it in calorie-bomb form when they're done.
Anyone want one? I'm making double the amount I did last year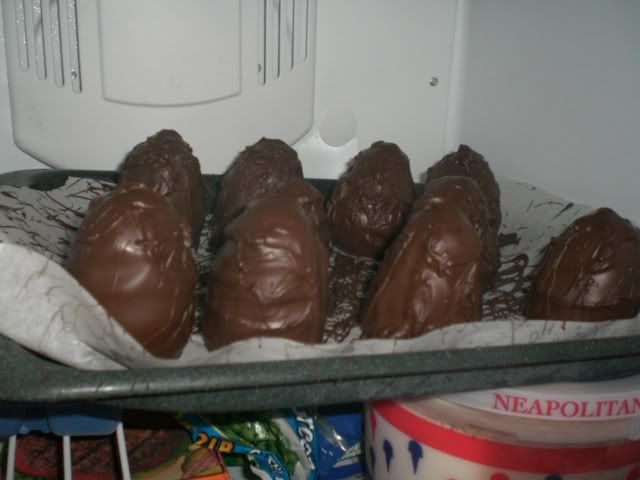 I realize they look sort of like.. dinosaur turds. Not sure what those taste like, but I don't imagine they taste anything like my fabulous eggs.
Oh, and see that ice cream down there? Yeah. That's what we brought as a side LAST year, and no one ate it, and it sat in our freezer for months until we gave up and threw it out.
At least if no one eats my eggs (which they will, someone who shall remain nameless stole a bunch and took them home last year!) they will go to good use here at home… in my belly!
Off I go. Much labor to be had (and i'm not talking about childbirth)