I've been cryptic for probably the past few weeks, and for good reason I think.
Allow me to show you: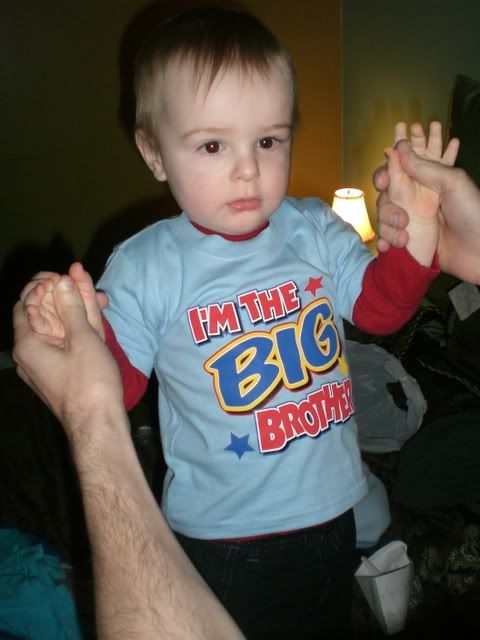 Now, if you're anything like my Dad, the image to the left means nothing to you.
Think long and hard about the picture.
Got it yet?
No?
Let's try this, then: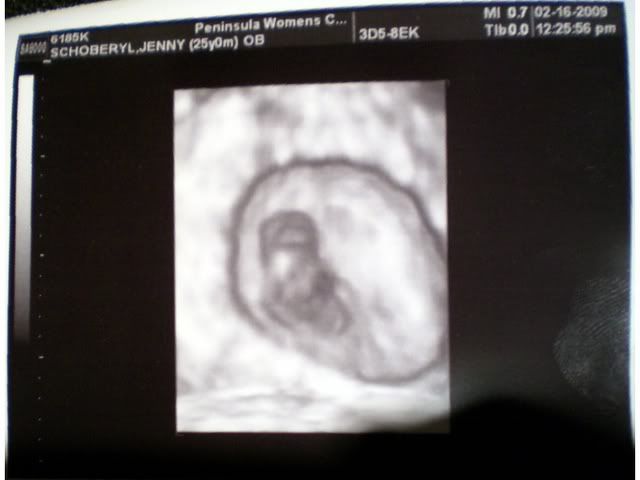 Yes, that weird little thing is a baby. Yes, I am pregnant (and yes they spelled my last name long like a bunch of morons). 2.5 months to be exact… and didn't even find out until almost 7 weeks along.
Now, before you start snickering about how I "should have been on birth control!" allow me to explain to you the circumstances behind this pregnancy.
As I said before, I had my yearly appointment with my OBGYN on Friday the 13th. Immediately I should have known something weird would happen, being Friday the 13th and all the superstition behind it.. and the fact that I am incredibly superstitious.
The appointment went as expected, dig in this, poke at that.. talk about how huge Holden has gotten.. and then we started in on a conversation about my cycles. They have ALWAYS been ridiculously long. By long I mean 40 days +, when most women have 28 day cycles. Even before Holden they were long, so it's never been something abnormal to me- it's just annoying.
My OBGYN decided we should do some testing to make sure my long cycles weren't caused by anything more serious- so we go to the nurse's station to get some blood drawn.
I'm sitting there, Holden in my lap, and my doctor turns to me and says "your pregnancy test is coming up positive"
I laugh. She's joking, right? I even called her a liar and told her she had the wrong pee.. so she did it again, positive.
Instantly I am in tears. How could this happen? We've been so busy with remodeling I can't even remember when we had sex.. the most recent time wouldn't even show up positive on a pregnancy test so what the fuck??
The next few days, I hope this is some huge mistake. I consider terminating the pregnancy.. more than consider, it seemed like the only option. With all of our bills, all of our obligations, there's no way we could afford another baby. And what about Holden? I don't want to share my attention with anyone else. I love it being just me and him. I don't want to ruin his childhood.
None of it seemed real until the ultrasound, and seeing the little blob with a beating heart. That's when it all became reality.
As much as I didn't want to be pregnant, don't want another baby so soon- as pro-choice as I am.. I can't terminate. Just can't do it.
And then the call comes: the nurse from the OBGYN is claiming my Due Date is October 8th.. which means i'd have to have conceived between Jan 12-16.
Impossible.
I know for a fact there was no sex on OR around those dates. And from everything i've ever read about sperm, it can only live for 4, MAYBE 7 days inside of a woman (weird way to put it).. not 10-16 days (the ONLY time we had sex in January due to the remodeling of the house). I tell the nurse that due date is completely incorrect and she cops and attitude and insists it's accurate.
I start thinking more about it. Friday the 13th? An impossible conception date?
It hits me. October 8th is my mom's birthday… and I have ALWAYS felt her presence around Holden.
So I think.. someone is telling me something. That maybe this pregnancy is meant to be? Maybe there's a bigger reason for all of this? Something I won't know until later… but with all the weird circumstances surrounding this pregnancy, there has to be a bigger reason for it all.
The whole thing is incredibly weird, so why not throw a conspiracy theory out there? You may not believe in all of this, but I sure as hell do.
Everything happens for a reason, right?
I'm still not thrilled about being pregnant. I don't know how i'm going to handle a 2 year old and a newborn..
and if it's another boy I will KILL SOMEONE (thomas.. watch yourself)..
but there it is. I'm having another baby. So be it.