Oh how I wish I was that incoherent right now. You can probably tell by the previous sentence that I am not. I'm a little loopy.. that's about it.
My opinion on oral surgery now that i've had it? It can eat a dick.
If you're curious, yes I really did receive that brochure.
Anyways, the actual surgery part was a piece of cake.. duh- I was asleep for the whole thing. I can remember sitting in the chair and chatting with same-name nurse, then her giving me laughing gas and me telling her "yea, there's no way this would make me okay with having teeth yanked from my mouth".. and then I guess we were talking about Christmas gifts and it's black after that.
I don't think I dreamed.. I don't really remember. I woke up extremely calm and extremely numb and basically choking on all the gauze in my mouth. At that point I was pretty optimistic, it didn't seem as bad as i'd hyped it up to be.
It was then that I was handed the bag containing my extracted wisdom teeth. I never asked for them, I think I might have even said I DIDN'T want them- but I was so out of it I probably got excited about seeing them.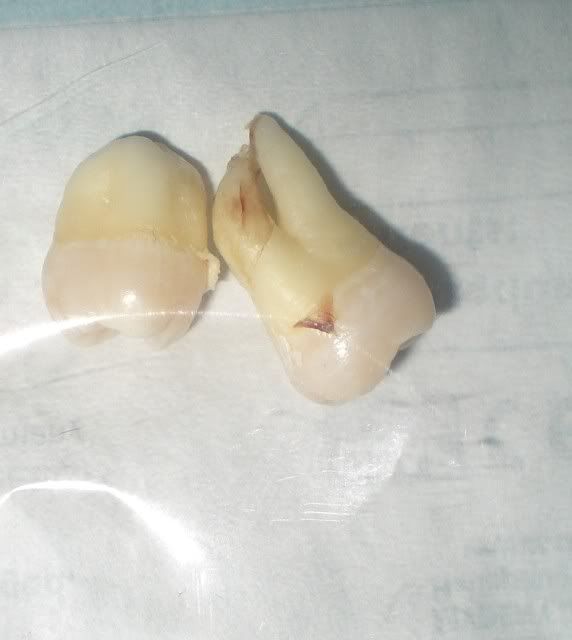 Two teeth to the left are the teeth that had to be dug out of my jaw. Cool, different than I thought they'd look (I thought they would be bigger).. weird color since they were IN my gums and not exposed.. but whatever.
Then I noticed a very different looking tooth on the other side of the package. It was the one that was bothering me.
At that moment, I realized just how bad my tooth was and the oral-surgeon failed to tell me.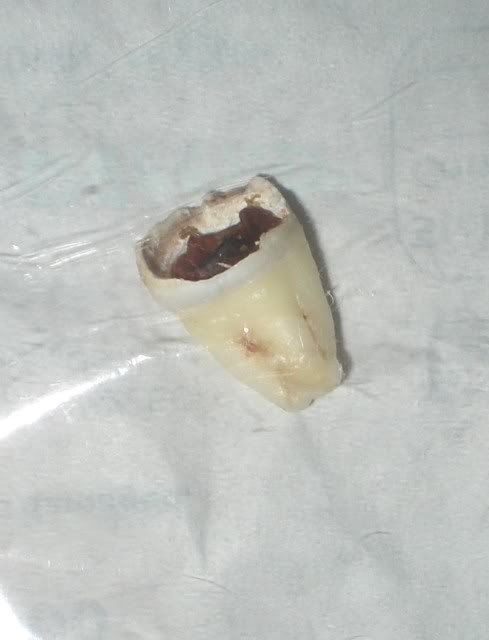 Your eyes do not deceive you. That tooth is not only SHATTERED at the top (which is what was stabbing my cheek all along), but it's rotting on the inside.
Remembering back to my consultation, the assholish-surgeon had done an exam and then given me the option as to whether I wanted the teeth removed or not. So, basically.. he was willing to leave a shattered rotting tooth in my mouth. Professional! Caring! Douchebag!
I was totally shocked, I couldn't believe that nasty thing was sitting in my mouth causing me so much hell and I had no idea. I was glad it was gone, but the sight of it was definitely a buzzkill.
The rest of my day was pretty much pure hell. I was in intense pain.. couldn't sleep because I was bleeding through my gauze and had to change it, couldn't eat or swallow water because it hurt too much.
Thank the lord for my neighbor/friend Karma coming over and taking care of me. It's nice to have a Mommy around who knows what to do. Thomas seemed lost trying to deal with both Holden and I (and that statement might make him mad but it's the truth).
The ONLY good thing about the day is how well behaved Holden was. Maybe he knew not to run around screaming like a little hellion. Intuition of some sort.
As of now.. my gums are still bleeding, i'm still in a pretty decent amount of pain and the hydrocodone is only seeming to make me itch instead of taking the pain away. My face doesn't look like an alien, yet. I'm expecting to wake up tomorrow looking like I got botched plastic surgery.
My only hope is that these stitches dissolve.. I can not imagine getting them torn out by assholish-surgeon. Terrifying thought.
Tomorrow should be ok I guess. Karma is coming over in the morning to help me with Holden, and my brother is coming over in the afternoon (my brother, who thinks Karma is H-O-T, hilarious).
The consensus is that I never EVER want dental work again. EVER!!!!