I don't go casually throwing out random advice on a regular basis, because I know how much I hated receiving it.. but if there's one thing I wish I was told when Holden was born- it would be to ROTATE YOUR KIDS HEAD.
That reads really funny out of context but it will make sense as this post goes on.
Like most vaginally born babies, Holden was born with intense cone head.. I literally could not even look at it- it just freaked me OUT. After a few days, it morphed into the normal super-round perfect baby head shape.
Unbeknownst to me (because I didn't know to look for it), Holden was constantly sleeping on one side of his head. The more he slept there, the more he got comfortable ONLY sleeping with his head turned one way.. and soon… a flat spot wore onto the back side of his head.
Once I noticed it, I couldn't stop noticing it and it became a source of incredibly paranoia and stress to me.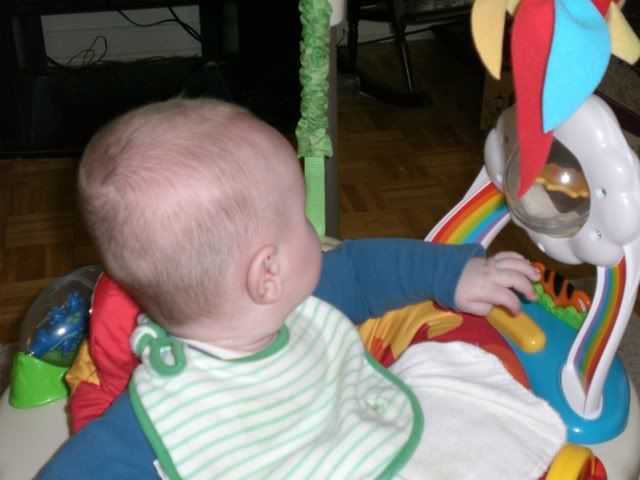 I did what I always do in a state of baby-panic, I googled! …And asked girls on the mommy-board I post on. The more I saw and read, the more differeing opinions I got. Some people told me it would absolutely correct on its own, and others said it absolutely would NOT- and that he needed a corrective helmet.
If you've read the Jenny McCarthy book, then you know exactly what i'm talking about because her son had to have a corrective helmet (his was also much more severe).
I started looking at websites with pictures of children with incredibly flattened heads to the point where their eyes became misaligned and their forheads protruded and freaked myself out to the point of tears. Thoughts of "The Elephant Man" came to mind- and people asking Holden to take off his mask.. only.. he isn't wearing a mask!
Of course, at Holden's next pediatrician appointment I asked what I could do.. if it was bad enough to need a helmet, and she did her best to calm me down. She said it wasn't bad at all and she'd seen so much worse, and just to 'rotate his head' while he was sleeping to make sure he wasn't constantly on that spot since he couldn't sit up on his own yet. I wasn't sure what to believe, since some pediatricians just never suggest corrective helmets for children at all.. but I went with it, being that I like our pediatrician and value her opinion- and because I was pretty damn sure our insurance would never cover a $1600 corrective foam helmet for Holden… and because the thought of my kid wearing a helmet for however many weeks was absolutely horrifying to me.
For MONTHS, any time Holden was sleeping i'd move his head off of the flat spot. I'd creep into his room at night and move his head.. if I heard him stir i'd go back in to check and make sure he hadn't rolled back onto it. It became a complete obsession. For good reason, but I think I really hyped it up in my mind. It was all I saw when I looked at him, I think at one point it was all I talked about. Who doesn't want their kid to be 'perfect'?
I noticed it getting better little by little, but still nowhere near what a 'perfect round head' should look like.. and then I stopped and thought
"Well.. i've never looked at an adult and thought 'damn that guys head is flat!'" and i'm positive there are many adults out there with the same shape head as Holden (ahem.. Thomas), the same shape head I was completely freaking out about. I'm sure if I shaved my head, it wouldn't be perfectly round.. 'cause I seriously don't think my Mom was putting much thought into it.. she was probably too busy coiffing her huge curly 80's do.
No, this didn't stop the paranoia, and I still continued rotating his head in his sleep (it became an art.. how to turn a baby head without waking him) until he became mobile. If I had to do it all over again.. i'd have rotated his head sooner to make sure he didn't wear a freaking flat spot into his skull in the first place (as creepy as it is, it's literally like wearing an ass spot into your couch), and had the same thing happened- i'd be rotating the same way I did.
Is his head 'perfect' now? No. What is a perfect head anyways?


It's definitely much better.. enough for me to not be stressing out over it anymore. It could just be that he has poofy hair to hide it, out of sight out of mind, right?
I still glance at it and am sad that I didn't stop it before it started- maybe if I did my Dad wouldn't be calling him (in different words) a "fat head."